TRACE ELEMENTS CRUCIAL TO CATTLE PERFORMANCE AT HOUSING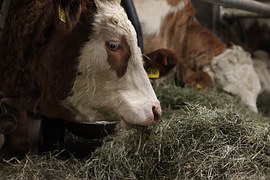 Feed accounts for a large proportion of cattle wintering costs - in order to gain the most reward from the outlay of buying or producing feed it is crucial that the animal is of adequate trace element status to enable the animal to extract the most nutrients from the feed:
• Cobalt: Is converted to vitamin B12 in the rumen which is vital to the conversion of forage to glucose for the animal. Glucose is an important supply of energy for liveweight or calf growth during pregnancy.
• Selenium: Vital for the immune system, as an antioxidant and for muscle development during pregnancy.
• Iodine: Is incorporated into the thyroid therefore has a major role in controlling metabolic rate. Iodine requirement is much higher in the winter than in the summer because of decreasing temperatures and the effect that cold stress has on metabolism. Metabolism is related to feed conversion ratios and growth rates thus for optimum performance over winter cattle must have adequate provision of iodine in the diet.
Overall optimum trace element status is vital for cattle performance and optimum utilisation of forage over winter. Smartrace® Plus Adult Cattle and Smartrace® Plus Growing Cattle provide the animal's full daily requirement of iodine, selenium, cobalt and copper for 180 days.